Via Bloomberg | Rob Urban & Kristy Westgard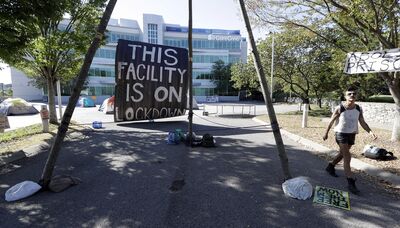 Private-prison companies keep winning, and they have U.S. taxpayers to thank.
Not only are Americans footing the bill for detaining thousands of border-crossers, the Internal Revenue Service allows CoreCivic Inc. and GEO Group Inc. to legally avoid paying taxes on their gains.
Those gains are substantial. A dollar placed on CoreCivic the day before President Donald Trump's 2016 election, with dividends reinvested, would be worth $2.02 today. For GEO, $1.83.
A big part of the success stems from Trump's plan to spend nearly $2.8 billion next year expanding immigrant detention capacity by 30 percent from 2017. The funding would support an average daily population of 52,000, about the size of Saginaw, Michigan. More than 70 percent of undocumented immigrants were held in private prisons last year, according to nonprofit group In the Public Interest.
Savvy use of the tax code plays a role, too. CoreCivic and GEO, the biggest U.S. prison companies, are classified as real estate investment trusts. That means almost all their profits from property-related operations are tax free as long as they're distributed to shareholders through dividends.
"We are very pleased with our second-quarter operating results and with our forecast for the balance of the year," GEO Chief Executive Officer George Zoley told analysts last week.
The tax rules incentivize CoreCivic and GEO to build and lease detention facilities rather than only manage them. They're doing just that.
Prison Ownership
Boca Raton, Florida-based GEO owned or leased 102 prisons in the U.S. last year, up from 65 in 2013, when it became a REIT.
CoreCivic, based in Nashville, Tennessee, reduced managed-only contracts to seven last year from 16 in 2013, the year it also became a REIT. Facilities it owns and manages or leases grew to 82 from 53.
Both companies also have business lines whose revenue is taxable.
"For the past five years, we've been very thoughtful about rebidding on CoreCivic Safety's managed-only contracts when they are up for expiration," CoreCivic spokeswoman Amanda Gilchrist said in an email. "The margins in the managed-only business are very low, and we are dependent on the government partner to maintain the real estate asset, including maintaining all critical security and life safety systems."
The shift in strategy is evident in Conroe, Texas, and Lansing, Kansas, where the companies' income is guaranteed by long-term leases.
10-Year Lease
The 1,000-bed Texas center, set to open in September, is the result of a 10-year lease signed by GEO and U.S. Immigration and Customs Enforcement. Construction will cost about $120 million, and the prison will generate $44 million in annualized revenue per year over the life of the lease, GEO said. GEO will run the facility and ICE will have an option to renew the lease when it's up.
Conroe is the first new federal detention center to be built since Trump took office, though the procurement process started under Barack Obama, GEO spokesman Pablo Paez said.
Government agencies increasingly want "these projects to be financed, owned and operated as opposed to built by the government and then operated by the private sector," Paez said.
The 2,400-bed Kansas facility, partly replacing an older prison, will cost about $155 million to build. It'll be run by state employees. CoreCivic designed it, built it and will be responsible for maintenance over the life of the 20-year contract. The total cost of the lease will be $362 million. When the lease is up, the prison will belong to the state.
That deal likely will lead to others, said Lucibeth Mayberry, CoreCivic's executive vice president of real estate.
Marketing Opportunity
"Kansas has really allowed us to market this opportunity," Mayberry said. "We've had a number of state and large county customers who've come to us now asking to see the lease, because having a template to follow is going to be important to kick that business line off."
Kansas lawmakers discussed floating a bond to pay for the facility, but opted instead for the leasing contract with CoreCivic. Outsourcing prison construction speeds the expansion of America's penal system, the world's largest, as politicians are spared from having to ask voters to approve bond issues, according to Shahrzad Habibi of In the Public Interest.
An audit conducted for the Kansas legislature found the cheapest option would have been to finance construction with a bond and outsource maintenance. CoreCivic argued that savings from operations would pay for the lease, and using modern cell-block designs with video cameras would mean fewer guards. CoreCivic borrowed $159.5 million to pay for construction, at 4.43 percent, similar to the rate Kansas would have gotten.
"Under this proposal, the cost to construct and maintain ended up being about equal to the other result," said Mike Gaito, the director of capital improvements at the Kansas Department of Corrections.
Some critics question whether prison companies should qualify for REIT status.
"The fact that the actual tenants of the building are not the government agencies contracting with the private-prison operators raises several questions," tax attorney Peter Boos wrote in a 2014 analysis. "To suggest that this type of operation, which has significant aspects of tax avoidance embedded in the proposal, has at its core a real estate business is, at best, a charitable description of private prisons."
REIT Designation
U.S. Representative Gregory Meeks, a New York Democrat, said he's introduced legislation to take REIT designation away from private-prison companies. A similar bill was introduced in the Senate by Oregon Democrat Ron Wyden. Neither has come to a vote.
In 2016, the U.S. Justice Department under Obama said it would phase out private-prison use. That decision was reversed by Trump Attorney General Jeff Sessions in February 2017.
Last year, CoreCivic's earnings from the federal government contributed about 48 percent of revenue, with 41 percent coming from states.
"It's important for investors to know that over the last 10-plus years, if ICE gets an increase in detention funding from one fiscal year to the next, that serves as the new base going forward,'' CoreCivic CEO Damon Hininger said in February. "We have not seen a funding reduction enacted, only increases of the maintaining of prior-year funding.''