Via The Daily | Alexander Tufel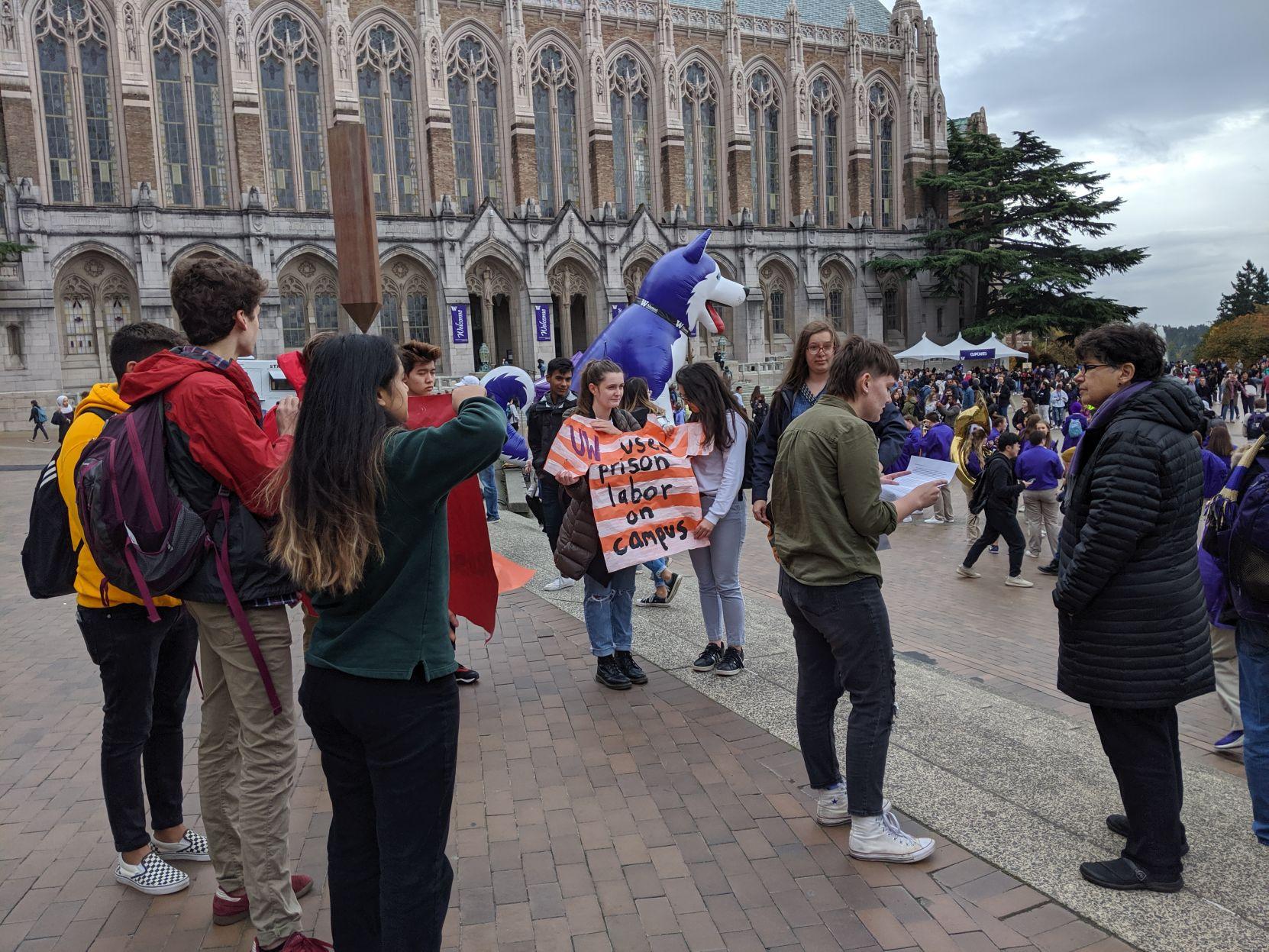 It was W Day and the Husky Marching Band had just begun to play in Red Square.
As the UW Cheer team danced, purple pom-poms pumping and shimmering, President Ana Mari Cauce ascended to the stage to announce this year's homecoming scholars. The music went quiet and applause and cheers rang out from the students gathered there.
But the celebration was not without interruption.
Standing in the middle of the crowd, signs displayed before Cauce, were eight members of the UW United Students Against Sweatshops (USAS).
"Prison labor = modern slavery!" read one sign.
"UW divest from the prison industrial complex," read another.
"It is a modern form of slavery," UW USAS co-chair Katherine Cavanaugh said. "It doesn't just reflect the legacy of slavery, it's what slavery has become."
Since 2011, the UW has spent almost $7 million on furniture and services for student housing from Correctional Industries (CI), a unit of the Washington Department of Corrections that uses incarcerated labor to manufacture goods for public institutions, according to a 2016 UW Board of Regents (BOR) Meeting Minutes record.
CI advertises itself as a work training program, teaching inmates basic job skills while providing "enormous benefits for taxpayers."
In recent years, student groups and faculty have opposed the university's purchase of goods built from prison labor. In 2016, the student group Divest UW interrupted a BOR meeting to demand the university divest from CI.
Now UW USAS, a national student organization that advocates for workers' rights locally and abroad, is continuing those demands.
"Today, we're here to send another message, only this time, we do not make these demands on the premise that this university possesses guiding values of any sort — we know this is not the case," Cavanaugh said to Cauce after she left the stage, reading from a prepared statement.
"To date, we know that the university has spent millions of dollars on furniture from Correctional Industries, furniture that is produced from the coerced labor of incarcerated workers, who earn 'wages' that average 12 cents an hour."
CI manufactured all of the furniture in Alder Hall, Elm Hall, Terry Hall, Maple Hall, Lander Hall, Willow Hall, Madrona Hall, McCarty Hall, and Mercer Apartments, according to Robert Lubin, director of facilities and capital development for Housing & Food Services (HFS).
Inmates — predominantly from Stafford Creek Corrections Center in Western Washington — also installed more than 7,000 pieces of furniture in Alder and Elm Halls. On its website, CI referred to this work as part of a "case study."
A 2014 investigation by The Seattle Times revealed that CI was amassing millions in profit while laborers worked — some of whom are serving life sentences — for wages as low as 55 cents an hour. Furthermore, rather than learning important skills, CI laborers were often given menial tasks, unpacking boxes or assembling pre-made furniture, which is then sold at inflated prices.
In 2018, CI's net assets were over $34 million.
CI benefits from RCW 39.26.251 that requires public institutions to purchase furniture from prison factories, often to the detriment of their private competitors.
Cauce has previously claimed that the university is obligated to follow this law, despite it appearing to conflict with the Supplier Code of Conduct that prohibits the use of "coerced or forced labor."
Inmate education and work programs under RCW 72.09.130 "clearly links an inmate's behavior and participation in available education and work programs with the receipt or denial of earned early release days and other privileges."
Inmates who abstain from these programs are "not eligible to receive earned early release days during any time in which he or she refuses to participate in an available education or work program."
For Cavanaugh, the reasoning behind the UW's continuing relationship with CI was less about the law and more about expediency.
"By law, the UW can say that they just have to do this," Cavanaugh said, "But it's also really, really cheap for them and I think that's why they're actually doing it."
In addition to doing business with CI, the Board of Regents have also discussed the UW's investment holdings with companies like BlackRock, Inc. and Wells Fargo & Company, both of which profit from the private prison industry.
At present, HFS has a contract with CI worth just under $1 million for Oak Hall, a new dormitory that is scheduled to open next year, according to Lubin.