Via Harvard Prison Divestment Campaign
The Harvard Prison Divestment Campaign has a week of scheduled programming for Oct. 21 to 25, 2019.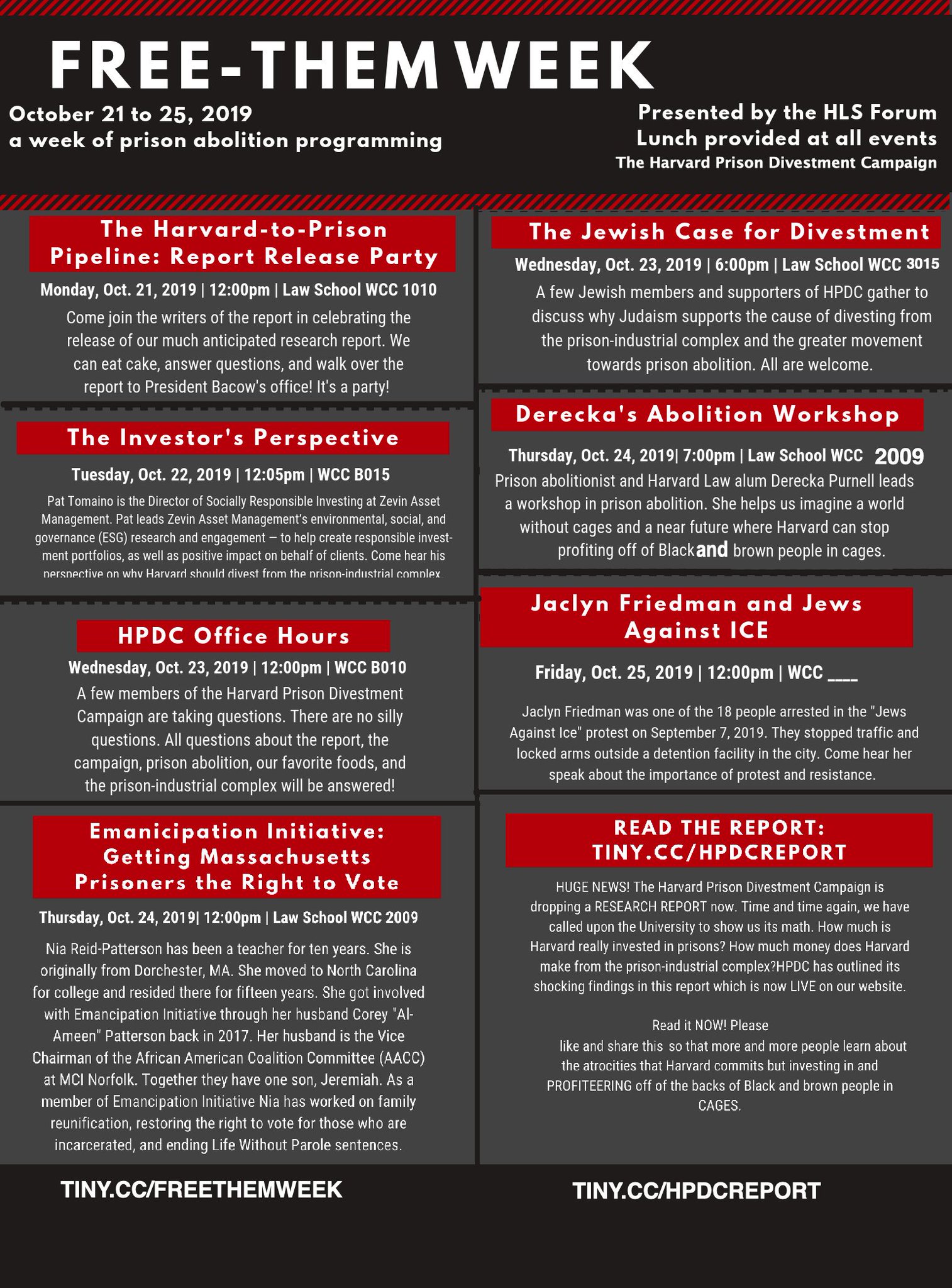 Please see below for the updated schedule:
REPORT RELEASE PARTY
Monday, October 21, 2019, 12pm, Law School WCC 1010
Come join the writers of the report in celebrating the release of our much anticipated research report. We can eat cake, answer questions, and walk over to the report to President Bacow's Office. It's a party!
The Investor's Perspective
Tuesday, October 22, 2019 12:00pm, WCC B015
Pat Tomaino is the Director of Socially Responsible Investing at Zevin Asset Management. Pat leads ZAM's environmental, social, and governance (ESG) research and engagement to help create responsible investment portfolios, as well as positive impact on behalf of clients. Come hear this perspective on why Harvard should divest from the prison-industrial complex.
HPDC Office Hours
Wed. Oct 23, 2019, 12pm, WCC B010
A few members of the Harvard Prison Divestment Campaign are taking questions. There are no silly questions. All questions about the report, the campaign, prison abolition, our favorite foods, and the prison-industrial complex will be answered!
The Jewish Case for Divestment
Wed. Oct 23, 2019, 6pm, Law School WCC B010
Never Again means NOW! A workshop exploring how Jewish values demand that we support prison-industrial complex divestment, the historical parallels between those who profit off of prisons and those who have profited off of the containment of Jews, and current anti-semitism in the carceral system. All are welcome, and we especially encourage the Jewish community to attend.
The Emancipation Initiative: Getting Massachusetts Prisoners the Right to Vote
Thurs. Oct 24, 2019, 12pm, Law School WCCC 2009
Nia Reid-Patterson has been a teacher for ten years. She is originally from Dorchester, MA. She moved to North Carolina for college and resided there for fifteen years. She got involved with Emancipation Initiative through her husband Corey "Al-Ameen" Patterson back in 2017. Her husband is the Vice Chairman of the African American Coalition Committee (AACC) at MCI Norfolk. Together they have one son, Jeremiah. As a member of Emancipation Initiative Nia has worked on family reunification, restoring the right to vote for those who are incarcerated, and ending Life Without Parole sentences.
Derecka's Prison Abolition Workshop
Thur. Oct 24, 2019, 7pm, Room TBD
Prison abolitionist and Harvard Law alum Derecka Purnell leads a workshop in prison abolition. She helps us to imagine a world without cages and a near future where Harvard can stop profiting off of Black and brown people in cages.
Jaclyn Friedman and Jews Against ICE
Friday, October 25, 2019, 12pm, Room TBD
Jaclyn Friedman was one of the 18 people arrested in the "Jews Against Ice" protest on Sept. 7, 2019. Protestors stopped traffic and locked arms outside a detention facility in the city. Come hear her speak about the importance of protest and resistance.