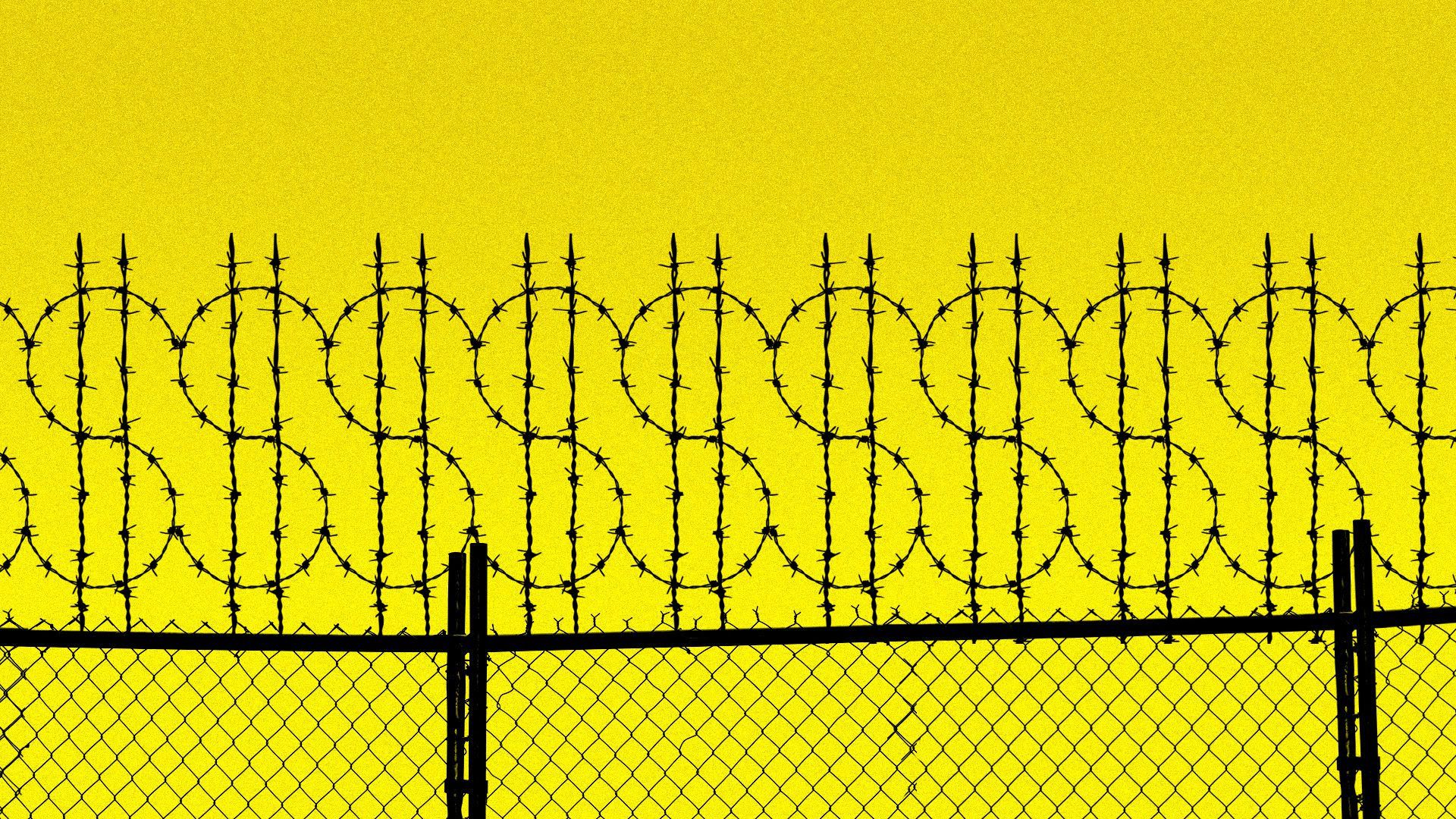 Several hours before last night's Democratic presidential debate in Miami, Sen. Elizabeth Warren tried visiting a child detention shelter in neighboring Homestead, Fla. She wasn't allowed in the door, despite having previously requested admission, and instead settled for making a short speech outside and waving to some kids through the chain-link fence.
Why it matters: Homestead is not the El Paso facility from which we recently heard horror stories about disease and lack of sanitation. But it is arguably even more controversial, in that it is the country's only for-profit detention center for migrant children.
Homestead is owned by a company called Caliburn which, in turn, is owned by a private equity firm, DC Capital Partners.
Homestead is the nation's largest influx shelter, able to house thousands of kids as they wait to be united with sponsors in the U.S. Because the facility is classified as a temporary shelter, the federal government maintains it is not subject to state child welfare regulators.
Many of the children have been kept beyond the 20-day legal limit, although there is ongoing court debate over whether such a ceiling applies while they are waiting to join sponsors, who are often family or friends of family.
Caliburn insists its charges are well cared for, although not everyone agrees.
Details: DC Partners formed Caliburn via a 2018 merger of three companies. The first of those was purchased back in 2011, while the shelter operator was acquired much more recently.
DC Partners filed for the IPO in October 2018, reporting $17 million of profits for the prior nine months on $630 million in revenue.
That was when it was still operating under a $220 million, one-year DHS contract for Homestead. It subsequently re-upped via a no-bid process which increased the top-line to $341 million.
DC Capital Partners seems to have originally operated as a fundless sponsor, but raised $450 million for its first institutional fund in 2017. Per the IPO docs, at least some of Caliburn sits within that fund.

Axios contacted five limited partners in that fund, to ask if they were aware of their indirect ownership in Homestead and for their thoughts on profiting from President Trump's family separation policy. None replied. This included public pensions in Baltimore and Prince George's County, Md., plus corporate pensions for healthcare systems Baystate Health and the Northern Westchester Hospital Association.
DC Capital Partners, founded a decade ago by former Veritas Capital partner Tom Campbell, declined comment.

The IPO was pulled in March. Officially because of "market forces," but more likely because of controversy over Homestead and government investigations into some of Caliburn's unrelated activities in Iraq.
The bottom line: Homestead is another front in a massive political battle playing out in Congress, the presidential campaign and on social media. And, like with so much of American society today, private equity is right in the middle of it.
Go deeper:
Pro Rata Podcast digs into the Democratic presidential debates. Listen here.
Editor's note: This story has been clarified to indicate that kids remain at Homestead until they can be reunited with sponsors in the U.S. or transferred to a different government facility (not necessarily an ICE facility).