Via Miami New Times | Jeremy Iannelli 
Before the federal government sued California in an attempt to open the state to private-prison contractors, U.S. Immigration and Customs Enforcement sought the advice of GEO Group, the Boca Raton-based, multibillion-dollar private-detention-facility corporation.
Mother Jones broke news of the close ties between GEO and ICE's legal team this past Friday. New Times has since obtained the full trove of files related to the cooperation from the 501(c)(4) group Democracy Forward. They show an extremely high level of coordination between top ICE officials and GEO's legal team long before the Department of Justice filed its case, which was tossed this past July. New Times was also able to identify multiple GEO employees involved in the conversation, including Adam Hasner, the former Majority Leader in the Florida House of Representatives.
While both ICE and GEO have stated the emails show routine conversations between government agencies and their contractors, private-prison-industry critics are sure to seize on the disclosures as proof the company exerts far too much influence over the federal government.
GEO is the largest ICE contractor in America and holds nearly a half-billion dollars in contracts. Roughly one-fourth of GEO's entire revenue comes from running ICE detention centers. A full third of ICE detainees occupy a GEO jail. Before Donald Trump took office, GEO's stock was falling thanks to a Barack Obama executive order banning the use of for-profit prisons at the federal level. GEO then (allegedly illegally) donated quite a lot of money to the Trump campaign and Attorney General Jeff Sessions then rescinded the Obama-era ban. GEO also moved its yearly company conference to the Trump National Doral golf course in 2017.
Meanwhile, the California State Assembly in 2017 passed a bill, AB 103, that significantly restricted the ability of for-profit prison contractors to operate in that state. In response, GEO, like most major corporations, compiled a legal brief analyzing how the new bill would impact the company's business. (The results did not seem good.)
The remarkable part, however, is that GEO then passed its legal analysis to ICE. In the email dump, the government redacted most of the names of GEO employees in the file. However, one name was not removed: Adam Hasner, GEO's executive vice president of business development.
Hasner served as a Florida state representative from 2002 to 2010 and at one point was the House's deputy majority leader. He was appointed to that position by then-Speaker of the House Marco Rubio. Hasner then ran for U.S. Congress in 2012 in Florida's 22nd District but lost to Democrat Lois Frankel.
Hasner's name appears to have been left unredacted in the email cache by mistake. He sent GEO's legal filing to ICE on June 22, 2017:
Immigration and Customs Enforcement
ICE officials then asked if GEO would have "any issues" if ICE shared the legal filing with the U.S. Department of Justice.
"No objections," an unnamed GEO "Senior Vice President for Business Development" wrote back on June 27. Per GEO's employee directory, that executive might have been David J. Venturella, who previously served as ICE's director of Enforcement and Removal Operations before moving to the Boca Raton firm.
Emails show that ICE employees — including principal legal adviser Tracey Short and her deputy, Mike P. Davis — then ran GEO's legal briefing up the ladder to higher-ranked officials, including ICE director Thomas Homan, members of the Department of Homeland Security's Office of the General Counsel, and the top aide to John Kelly, who was then DHS head. (Short asked Kelly to bring up the California issue with Sessions.) In emails, officials noted that the California bill would pose "difficulties" for GEO moving forward.View image on Twitter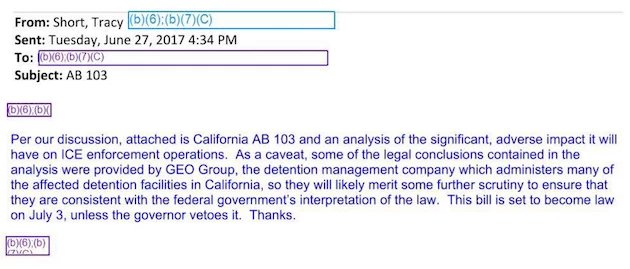 As a CA law reining in for-profit immigrant detention neared enactment, GEO Group—a private prison company and Trump donor—sent a memo to the Trump Admin outlining how to argue the law was illegal. Trump's DOJ later sued. 2/2
See Democracy Forward's other Tweets
Speaking with Mother Jones at the end of the week, GEO and ICE stated they had done nothing wrong. GEO representatives said ICE had asked for the company's legal briefing, and that the company routinely communicates with its "government customers." ICE meanwhile stated, "Regular communication between personnel at various levels related to detention services may be necessary and is entirely appropriate."
This is not the first time this month that GEO has been accused of improperly greasing the political wheels. The company — which has been repeatedly alleged to have abused immigrant detainees in its facilities — recently hired Joe Negron, the outgoing president of the Florida Senate, to serve as its chief lawyer. Negron has accepted large GEO campaign donations in the past and overseen a chamber that passed bills beneficial to GEO. Negron will now run a GEO legal team that recently threatened to sue civil rights activists for libel. (The American Civil Liberties Union called those threats laughable.) In a statement to New Times, the civil rights group Dream Defenders said it felt GEO's hiring of Negron was, flatly, "corrupt."