Via Bloomberg | Michelle Davis Max Abelson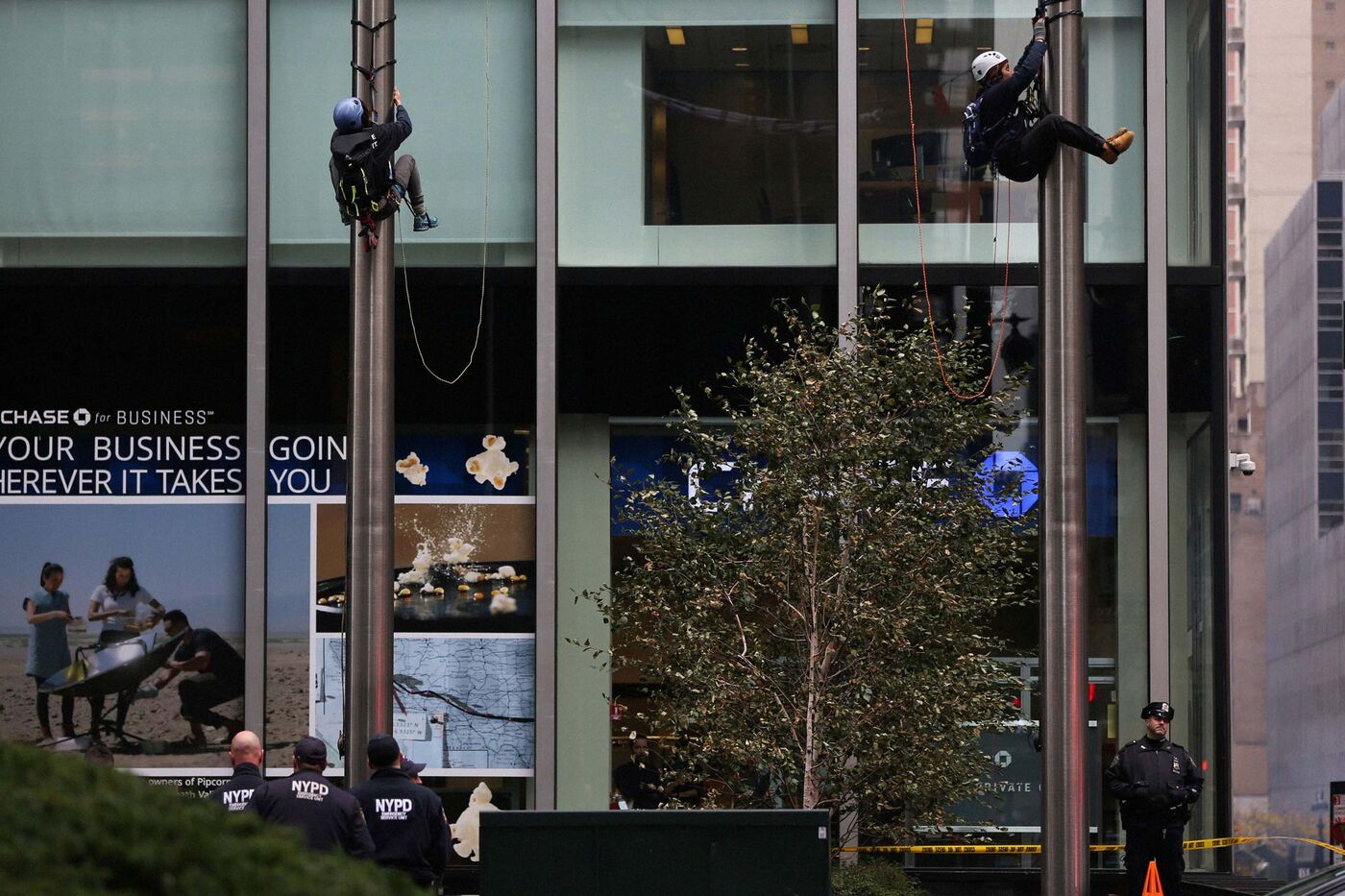 Jamie Dimon was on stage at a community college in Ohio in November, telling students not to get scared by the snakes and alligators they'll see in life.
A few feet away, an activist named Ruth Breech reminded herself to stay calm: "I need to be ready." When JPMorgan Chase & Co.'s leader paused a moment and looked to his left, Breech, at 5-foot-2, was standing beside his chair. "It's so good to see you again," she said. She and another protester raised a banner: "Chase: Stop profiting off dirty energy." Dimon adjusted his tie.
Dimon had just become the only remaining Wall Street boss who led a global bank before the financial crisis. JPMorgan is so big and profitable, and the billionaire has won so much influence, that he's being followed around the U.S. by a growing crew of critics who want the bank to join their fights against climate change, human-rights abuses, and private prisons. They've tried to get his attention by scaling Park Avenue flagpoles, blocking Seattle traffic with tepees, bursting into conferences, and blasting audio of crying children outside his apartment.
They've gotten louder since Donald Trump became president, turning to corporate behemoths and their celebrity executives to help solve problems that Washington creates or ignores. Years after Occupy Wall Street was driven out of Lower Manhattan, Dimon's critics add up to one of the biggest protest movements in finance. It's a preview of what might happen if he were ever to run for office. Even though Dimon swats down speculation that he'll run for president, he said in September that he could beat Trump in an election.
"When government actors are ignoring their responsibility to listen to regular people who don't have lots of money, these other avenues, like corporate actors, are all the more important," says Moira Birss, an environmentalist who interpreted for Spanish-speaking activists at the bank's shareholder meeting in May. "People like Jamie Dimon should welcome those opportunities."
Protesters have targeted Wall Street for years, but criticism at the annual conclave has shifted from the traditional corporate complaints about pay and risk-taking. The CEO is annoyed by the activism that now overshadows the event. "The shareholder meeting has become a farce," Dimon told clients and employees in Washington in October. "I'm not against social groups," he said, but the meetings "get hijacked." A JPMorgan spokesman declined to comment.
In September, Breech and climate activists disrupted Dimon's talk at a hotel in Philadelphia with shouts about fossil fuels. JPMorgan lends to TransCanada Corp., whose controversial Keystone XL pipeline got approval from Trump to carry fuel from the Alberta tar sands to the Gulf. Before that, eight people were arrested when immigration activists blocked the streets outside his co-op on Manhattan's Upper East Side. At one point, protesters at the gates to his building halted their chants, called for silence, and played the audio of Central American children sobbing in a detention center after being separated from their parents by U.S. authorities at the border. JPMorgan lends to GEO Group Inc. and CoreCivic Inc., which run facilities that hold immigrant families in Texas.
Some protesters don't just want Dimon's help, they want atonement. At this May's meeting outside Dallas, Juleon Robinson of the New Economy Project asked Dimon if Chase would provide reparations for giving less banking access and fewer loans to black and Latino customers in New York. "You seem like a bright young man who is highly misinformed," Dimon said, before ticking through some of the bank's philanthropic initiatives.
"Mr. Dimon, if you go into the neighborhoods like the South Bronx and invest this money …" Robinson said, before getting cut off. "I know," Dimon said, "I was there three times recently." Some of the shareholders waiting their turn at the microphone shuffled uncomfortably.
The CEO is used to a different reception inside his bank, where subordinates sometimes treat him like a cross between a guru and a rock star. After 2011's Occupy Wall Street protests and the bank's $6.2 billion London Whale trading fiasco a year later, Dimon cemented his power by surviving a 2013 attempt to strip him of his role as chairman. His stature has only grown. He's embarking on the bank's first national branch expansion in more than a decade, overseeing plans to tear down the company's Park Avenue skyscraper to build a taller one, and finishing a term as head of the Business Roundtable, a lobbying group for big business.
If he were ever to go into politics, some of these protesters are ready to stand in his way. "Communities would come out of the woodwork," says Frankie Orona of the Society of Native Nations, who picketed JPMorgan in Texas this year.
Dimon isn't the only Wall Street boss attracting critics. At this year's Wells Fargo & Co.shareholder meeting, where protesters demanded it halt business with the National Rifle Association, CEO Tim Sloan said his bank "can't be all things to all people." Amazon Watch, the environmental group that includes Birss, the translator, just helped kick off a campaign targeting BlackRock Inc.'s Larry Fink.
But the spotlight on Dimon and his bank shines bright. In May, environmental activists set up their makeshift encampment on a street in downtown Seattle along with a sign: "Road closed due to Chase's financing of climate disaster." At a New York conference, Greenpeace managed to get a recording to play on elevator rides: "Jamie Dimon, please come to the front desk regarding Chase's oil pipeline problem—thank you."
Protesters also tried to confront him inside New York's Plaza Hotel: "I don't know why they're following me around," he told a bank analyst. And Breech helped climate activists climb flagpoles in front of one of the bank's New York towers to hang a banner about tar sands. At the protest at Ohio's Columbus State Community College, a smile on Dimon's face slowly faded as Breech was ushered out of the room. "Can I just make a point?" he asked. "I do think that climate change is an issue, and that the government should have policies to deal with the issue, including how you deal with fossil fuels over time. OK? I don't think it's JPMorgan's job to decide what government policies should be about energy."
"You have huge leverage," Breech, from the Rainforest Action Network, called back to him from the doors of the room. "You can decide not to finance fossil-fuel companies." After she was gone, Dimon said it was reasonable for anyone to expect successful companies to lift up communities, but the talk quickly shifted to other subjects.
"We've just begun," Breech says later. "Our goal was to get direct access and direct engagement with Jamie Dimon—see the whites of his eyes."