Via The Nation | By John Washington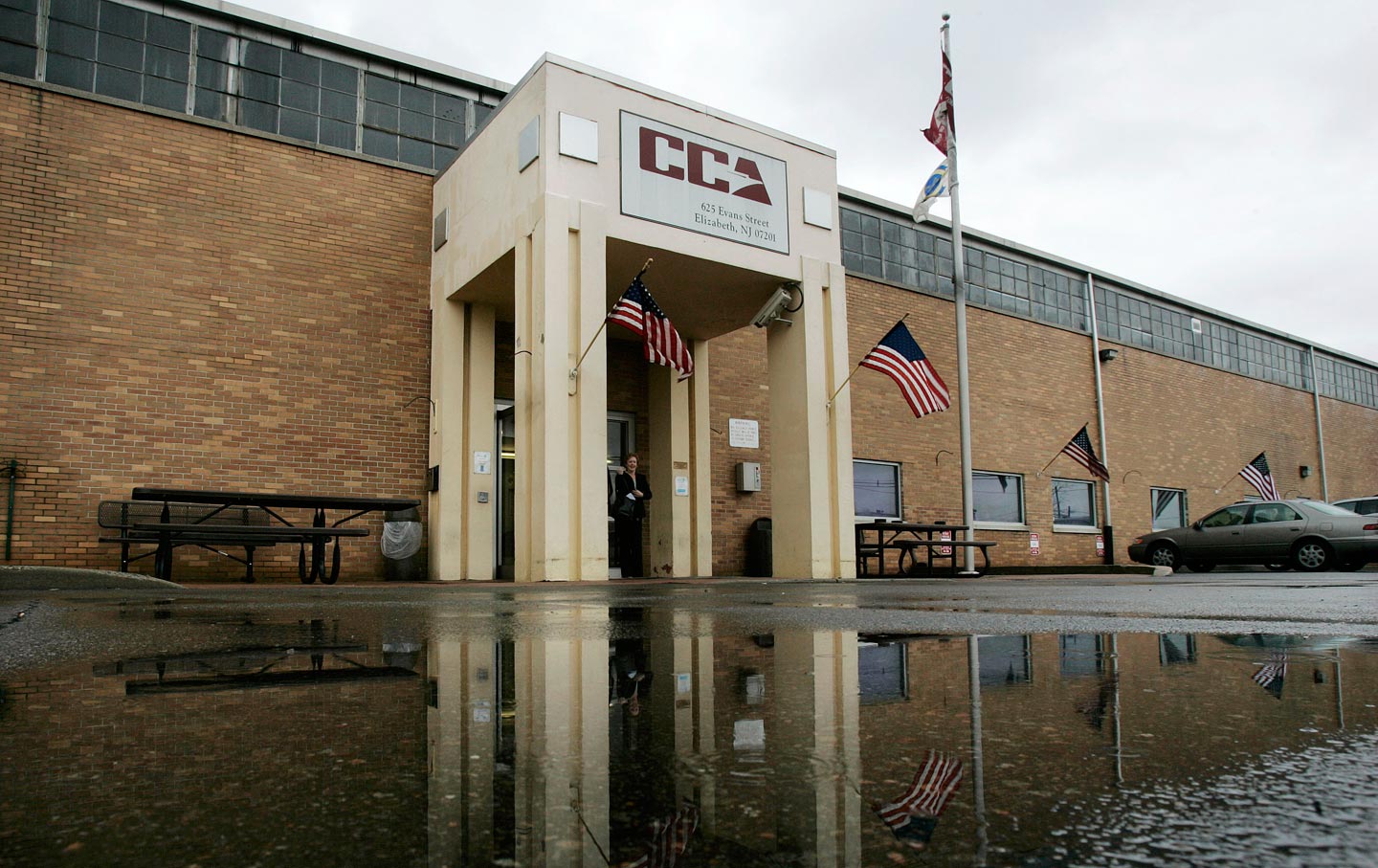 Prisons in the United States are as old as the Republic. Philadelphia's Walnut Street Jail, first locking people up in 1775, began the country's centuries-long, ongoing experiment in incarceration. It wasn't until the following decades, however, also in Philadelphia, that men convicted of crimes were placed in small, mostly isolated cells in conditions approximating those in most modern penitentiaries.
The new take (small cells for individuals or pairs) on an old idea (dungeon-like lockups), championed by Benjamin Franklin and Dr. Benjamin Rush, came, in part, from the "Quaker-inspired belief that criminals could benefit from spiritual reflection, which could lead them to see the errors of their ways and live a life devoid of crime," Lauren-Brooke Eisen writes in her new book, Inside Private Prisons: An American Dilemma in the Age of Mass Incarceration. As Eisen explains in this timely work, a quiet spot for spiritual reflection is a far cry from what the modern American penitentiary system offers to those convicted of (or sometimes only charged with) a crime. Today the 2.3 million people in American prisons and jails suffer from a variety of humiliating and oppressive conditions, including economic exploitation, sexual assault, indefinite solitary confinement, substandard medical care, disgusting food, filthy living conditions, gross neglect, cruel and unusual punishment, and even what many describe as slave labor.
Men, women, and children today are not being sent to prison for the benign goal of helping them "see the error in their ways," but for a variety of reasons, including social control, racial animus, asserting class divisions, and the nebulous ideas of justice and rehabilitation—a list to which we can now add corporate profit.
Though profit motives have long played a part in the politics of incarceration, only in the past four decades have private prisons started dotting the US carceral landscape. In 1983 CoreCivic (formerly known as Corrections Corporation of America, or CCA) opened its doors as the country's first private-prison operator, positioning itself as a relief valve to overcrowded state and federal prisons. Soon, however, with rapidly booming incarceration rates, more private-prison corporations cut their ribbons; the industry grew, innovated, and began driving policy as much as reacting to it.
The private-prison industry is now a highly profitable, yet still niche, part of our massive prison-industrial complex. The US government now spends $80 billion annually on corrections, 18 states spend more on incarceration than on higher education, and one study found that the total cost of incarceration, including social costs, adds up to $1 trillion. One point seven million children in the United States have a parent in prison, more than 70 million Americans (about one in three) have a criminal record, and those enormous impacts are suffered unequally: While African Americans are about 13 percent of the US population, they make up 37 percent of the male prison population.
Today there are nearly 200 for-profit prisons locking up about 126,000 inmates across the country, and since Trump took office the industry has become both a bull market (only weeks after Trump's election, CoreCivic's stock had jumped 57 percent) and a flash point in the debate about carceral politics. Like many innovations of American capitalism, our private-prison model is now also being exported, to the UK, Australia, and New Zealand.
I spoke with Eisen earlier this year about her new book, and how private prisons fit into the broader discussion of mass incarceration. This interview has been edited and condensed for clarity.
John Washington: In Inside Private Prisons, you ask, "Is the movement to eliminate private prisons a distraction from improving the lives of those who cycle into and out of our nation's prisons?" Given that private prisons maintain less than 10 percent of the nation's inmates, why should we spend our efforts focusing on private prisons?
Lauren-Brooke Eisen: The book makes the point that neither the for-profit prison industry nor the vast prison-industrial complex single-handedly drove the growth of mass incarceration. But we can't ignore the influence the private-prison industry has had on the carceral landscape.
Our prison-industrial complex today relies on a vast infrastructure of financial incentives that create significant hurdles when it comes to dismantling a mass-incarceration system on which the nation has come to rely. There are innumerable opportunities to profit from the incarcerated in the US, and private prisons are just one part of this multibillion-dollar business.
But these private prisons are important to understand and discuss because, while only about 8 percent of the current state and federal prison population is housed in for-profit facilities, about 18 percent of those behind bars in the federal system are in these prisons, and over 60 percent of immigration-detention beds are operated by these corporations.
What's more, while mass incarceration would exist with or without private prisons, their very existence has helped to perpetuate today's enormous prison populations because of their history of lobbying state and federal legislators, and their incentives to turn a profit off of those behind bars.
JW: You trace how private-prison companies are "diversifying their business model," with efforts by CoreCivic, for example, to be at the forefront of the "Wal-Martification of reentry," in the ACLU's words. You also mention CoreCivic's new focus on real estate. What are they doing, and how else are private-prison companies expanding beyond security and incarceration?
LBE: Hedging their bets in light of significant sentencing reforms sweeping the country, Geo Group and CoreCivic are diversifying into running reentry programs, halfway houses, drug-treatment centers, electronic-monitoring companies, and providing an ever-growing list of services to those who are part of the criminal-justice system. In fact, GEO Group boasts on its website that it "is the world's leading provider of correctional, detention, and community reentry services with 98 facilities, approximately 87,000 beds, and 20,500 employees around the globe."
This should concern us because, although arguably a more humane business endeavor than warehousing people behind metal bars, many are worried about introducing private capital into the world of reentry and community corrections. The involvement of for-profit corporations in this new world of providing services to those who are under criminal-justice supervision in the community needs to be monitored to ensure that the financial incentives are structured appropriately, perhaps based on recidivism rates and employment success.
JW: Is allowing any form of financial incentive, however, just redirecting the monster? Or do you think private for-profit corporations are now an inextricable part of our carceral system?
LBE: Given the political reality that the Trump administration is going to be a boon to these corporations—and that they are not going away today, tomorrow, or even next year—I think it's important that we focus on reforming the industry and changing incentives that currently perpetuate mass incarceration.
My book notes that if, as a matter of principle, it is wrong, as some say, to profit off of punishment, anything short of abolition—including proposing reforms—risks complicity in an indefensible industry. But in the meantime, tens of thousands of individuals pass through the doors of private prisons. How the institutions function—whether they make it more or less likely that these men and women end their sentences ready to rejoin the community—matters greatly to those incarcerated individuals and to us as a society, and it is this concern that drives the book's inquiry.
JW: Is "mass incarceration" a misnomer, as Dylan Rodríguez, scholar at UC Riverside, has suggested? Are we limiting our ability to understand and end the crisis of "mass incarceration" if we don't incorporate race- and class-based critiques into our discussion of the carceral state?
LBE: The phrase "mass imprisonment" was coined by sociologist David Garland in 2001 for the rapid increase of imprisonment between 1972 and the late 1990s. While incarceration rates remained relatively steady for most of the 20th century, the 1980s and 1990s saw exponential increases. "Mass incarceration" became a more popular term fairly recently, becoming much more widely used after the publication of Michelle Alexander's book, The New Jim Crow: Mass Incarceration in the Age ofColorblindness.
But when we talk about who is locked away behind bars in this country, we need to also look at the vast racial disparities in incarceration. One example of how racial disparities play out in the cycle of arrest and incarceration is that almost one in three people arrested for drug-law violations are African-American, even though drug use rates do not differ significantly by race or ethnicity. Though drug laws are racially neutral, they are enforced in a way that disproportionately affects minorities.
Today an estimated 2.2 million people are locked inside jails and prisons. African Americans make up roughly 13 percent of the US population, but 37 percent of the nation's prisoners. The Prison Policy Initiative has recently broken down the effects of racial disparities on the criminal-justice system and found that, according to the US Census, blacks are proportionally incarcerated five times more than whites, and Hispanics are nearly twice as likely to be incarcerated as whites. It's important that we discuss the implications of our criminal-justice policies on African-American and Latino populations, who bear the brunt of incarceration, whether you call it "mass incarceration," "overincarceration," "hyperincarceration," or perhaps just an unacceptable way to treat so many human beings. In fact a Brennan Center report published last year found that almost 40 percent of Americans locked up today do not need to be behind bars, and are incarcerated with little public-safety rationale.
JW: Are there specific ties you've found between private-prison corporations and race- or class-discriminatory incarceration rates, or are private prisons just part of a racist and classist infrastructure?
LBE: These corporations are an outgrowth of a system of mass incarceration that has impacted poor African-American and Latino communities far worse than even poor, white communities. For anyone with financial means, imprisonment is less of a threat, because one can afford a lawyer or pay the criminal-justice system's extensive financial penalties without having them drag on for years. But the corporate interests that sustain the foothold of these for-profit prison corporations have significant implications for the African-American and Latino populations who, together, far outnumber white Americans behind bars.
JW: You basically describe divestment efforts as a drop in the bucket for private-prison corporations (and these only make up a small percentage of the total number of prisons). How, then, do we affect real change? What steps can we take to substantively reform, shrink, or even abolish the prison system as we know it?
LBE: The book looks at divestment efforts at universities across the country as well as cities such as New York and Philadelphia, both of which have divested their city's pension funds from the private-prison industry. The university campaigns—led by passionate students who told me their universities should not be complicit in the caging of human beings—have targeted investments in the biggest private-prison corporations, such as GEO Group and CoreCivic, as well as firms such as Vanguard—one of the world's largest investment firms that has significant holdings in private-prison firms.
Although some universities are divesting as much as $10 million in holdings from private prisons, this is a drop in the bucket for a $5 billion industry. To make a financial impact on the private-prison industry, it would require the heft of huge money-management funds such as the Vanguard Group, the country's second-largest management firm, to renounce its interests in these corporations. For example, as of late 2015, the Vanguard Group held 14 percent of CoreCivic stock, valued at $447 million.
But one can't argue with the publicity these student campaigns have garnered, calling attention to the issues around private prisons and mass incarceration. When Columbia University President Lee Bollinger issued a statement supporting Columbia's divestment from private prisons, he wrote that the "issue of mass incarceration in America weighs heavily on our country, our city, and our University community."
But divesting from corporations that profit off of incarceration is not going to significantly reduce mass incarceration. For that to happen, state and federal policy-makers need to change sentencing laws to mandate alternatives to prison and jail as the default sentences for many crimes so that fewer people are incarcerated. We also need to drastically reduce the length of stays for those who are sentenced to a term of jail or imprisonment. And so much about how we make arrests and sentence people needs to change, starting with police-community relations as well as reducing implicit bias of every actor in the criminal-justice system from police to prosecutors, judges, and even policy-makers. It took roughly four decades to build mass incarceration. Yet, at current rates of decline, it will take even longer to undo it.
JW: You note that while the for-profit industry manages only 8 percent of prison beds, nationally, "they manage a whopping 62 percent of immigration detention beds," with the federal government spending $2 billion on immigration detention per year. Though for-profit immigration detention seemed as if it were going to be phased out during the Obama administration, in the Trump era the anti-immigrant crackdown (and the generally pro-prison stance of the administration) seems to be a windfall for for-profit immigration detention. What changes have we seen in for-profit immigration detention since Trump took office?
LBE: The Trump administration appears to be focused on expanding the number of undocumented individuals who are detained behind bars in this country. For one, his administration requested more than $1.2 billion in the 2018 federal budget to expand detention capacity to more than 48,000 beds a day. To put this into perspective: According to ICE, the current daily capacity ranges from about 31,000 to 41,000. And in April, the administration handed GEO group a $110 million contract to build and run a 1,000-bed detention center in Conroe, Texas. And, most recently, ICE issued "requests to identify," which are basically pre-requests for proposals, from contractors who can house immigrant detainees in South Texas as well as in the interior of the country in places like Chicago, Detroit, and Salt Lake City.
These moves will certainly benefit the private-prison industry, which dominates immigration detention in this country. Just last week, on an investor call, CoreCivic's CEO Damon Hininger stated, "Through October and the first week of November, we have continued to see increased occupancy levels from ICE. If this trend continues for the balance of the fourth quarter into 2018, it is likely ICE will have additional detention capacities for interior enforcement efforts, as well as in traditional Southwest border regions."
Many individuals behind bars in immigration-detention centers are civil detainees who have not been convicted of a crime. And there is virtually no educational programming taking place in these facilities. Those worried about the growing number of people in immigration detention should be quite concerned that the private-prison corporations are providing that capacity, making it much easier for the government to detain an ever growing number of undocumented people.
JW: You write, "During the long partnership between for-profit prison corporations and ALEC, especially during the tough-on-crime era of the 1990s and the early 2000s, the industry actively worked to increase the incarcerated population in the United States." Who are the important actors writing or influencing today's incarceration policies, and how do concerned citizens have their voices heard and actually make a difference?
LBE: I think we need to worry about lobbyists at the federal level who—although the corporations say they only "educate" policymakers—wield significant influence on increased immigration-enforcement and -detention efforts. We also need to examine the revolving door of former ICE and BOP officials' taking top jobs at these private-prison corporations. At the state level, the lobbyists who roam state capitols wield enormous influence on legislators and governors who can impact the opening and closing of correctional facilities.
In terms of making a difference, there are many ways that people can ensure their voices are heard, from something as simple as accompanying someone to an immigration hearing (the NYU National Lawyers Guild, and the Immigration Rights Project have had trainings in New York) to volunteering for groups such as RAICES, a nonprofit that provides free and low-cost legal services to immigrant communities in Texas, to showing up at your city-council meeting or state legislature when opening a private prison or private immigration-detention center is on the agenda. Engaged citizens can also call their state or federal representatives to urge them to pass legislation to improve the transparency and accountability of the private-prison corporations. Individuals can also work on divestment campaigns at universities and in city government, as well as write opinion pieces on the need to make these corporations more transparent.